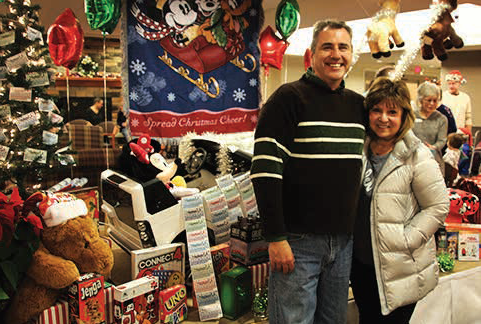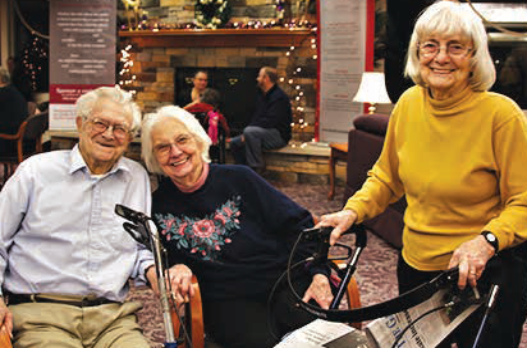 By: ANGELA HUSTON, Contributing Columnist for MedinaCountyLife.com | Photos by Russ Huston
Plum Creek Senior Assisted Living Community once again opened its doors for the annual Stuff the Escalade December 6. The free and popular event drew a large crowd of guests celebrating the upcoming holiday while at the same time supporting the work of the HANDS Foundation.
The only request was that guests please bring a non-perishable food item that would be donated to the Medina United Methodist Church. This very family-oriented occasion offered crafts, games, and prizes for the children, including a visit from Santa Claus.
The Singing Angels, a choral group made up of Plum Creek residents, also entertained with Christmas carols.
Everyone was invited to enjoy the complimentary refreshing beverages, tasty hors d'oeuvres, and holiday dessert buffet prepared by the Plum Creek staff.
Attendees were eager to make their bids on the many displayed baskets and silent auction items and to buy sideboard tickets. Lori Betz, with the assistance of Norm Shaffer, called the lucky numbers when it was time to announce the winners. The bidding highlight of the evening was focused on the Fisher Price Escalade, stuffed to overflowing with gifts valued at several thousand dollars. People were purchasing long ribbons of tickets from Kimberly Valco and Pat Hanek in the hope of winning this exciting grand prize. The Escalade and its widely varied contents went to the lucky couple, Ken and Monica Kravetz. Generous second, third, and fourth prize gift certificates were also awarded. Erica Dupay not only won the fourth place prize, but one of the silent auction baskets as well.
A key presentation took place when the Brunswick Eagles, long time supporters of the HANDS Foundation, gave the organization a check for more than $12,600. That generous donation brings the total the Eagles have given to the HANDS Foundation just this year up to $22,000. HANDS Board President Chrissy Waller extended special thanks to the Eagles and told the guests these generous donations have helped the Foundation fill 30 Senior Wishes in 2019.