Senior Wishes Grant
Funds are made available by grant application to seniors and their families for special needs they could not otherwise afford or obtain through any other resource.  This program fills a huge void in services to seniors and no other organization has a program like Senior Wishes!
Make a Donation Online
Donate and help Medina County seniors!
For for your convenience you can also pay your advertising invoice, sponsorship pledges, and event fees.
Helping The Hands Foundation Achieve Success
HOW CAN YOU MAKE A DIFFERENCE?
There are a multitude of ways you can impact a Medina County senior's life through the HANDS Foundation.  Here is a list of a few of the ways.
Advertise in Helping HANDS newspaper to create awareness of your products and/or services
Sponsor an event and get involved
Attend an event and meet new friends
Donate items for our events which helps HANDS raise the funds to assist seniors
Subscribe to Helping HANDS newspaper
Serve as a HANDS Board or Committee member
The HANDS Foundation
We have proudly been serving Medina County Seniors since 1995. Our purpose is to educate, coordinate and involve seniors and organizations to create an independent lifestyle that will result in an improved quality of life for our seniors. We believe:
Aging should be a supportive partnership among seniors, families, caregivers, the community and HANDS.

All seniors deserve dignity and a respectful quality of life.

The community has a responsibility to ensure sources exist and are made available.

Seniors are a valuable asset in the community wheel.
Subscribe to Our Helping Hands Publication
Advertising Information
Seniors in Medina County your target market?  Get in front of them regularly at surprisingly affordable rates. 
Sponsorship Opportunities
The HANDS Foundation holds several annual fundraisers each year.  We invite you to get involved! 
Helping HANDS Publication
We produce and direct mail a bi-monthly newspaper to over 10,000 Medina County seniors, free of charge.  
Testimonials
Read what our senior wish recipients are saying about our grant program and fundraising events!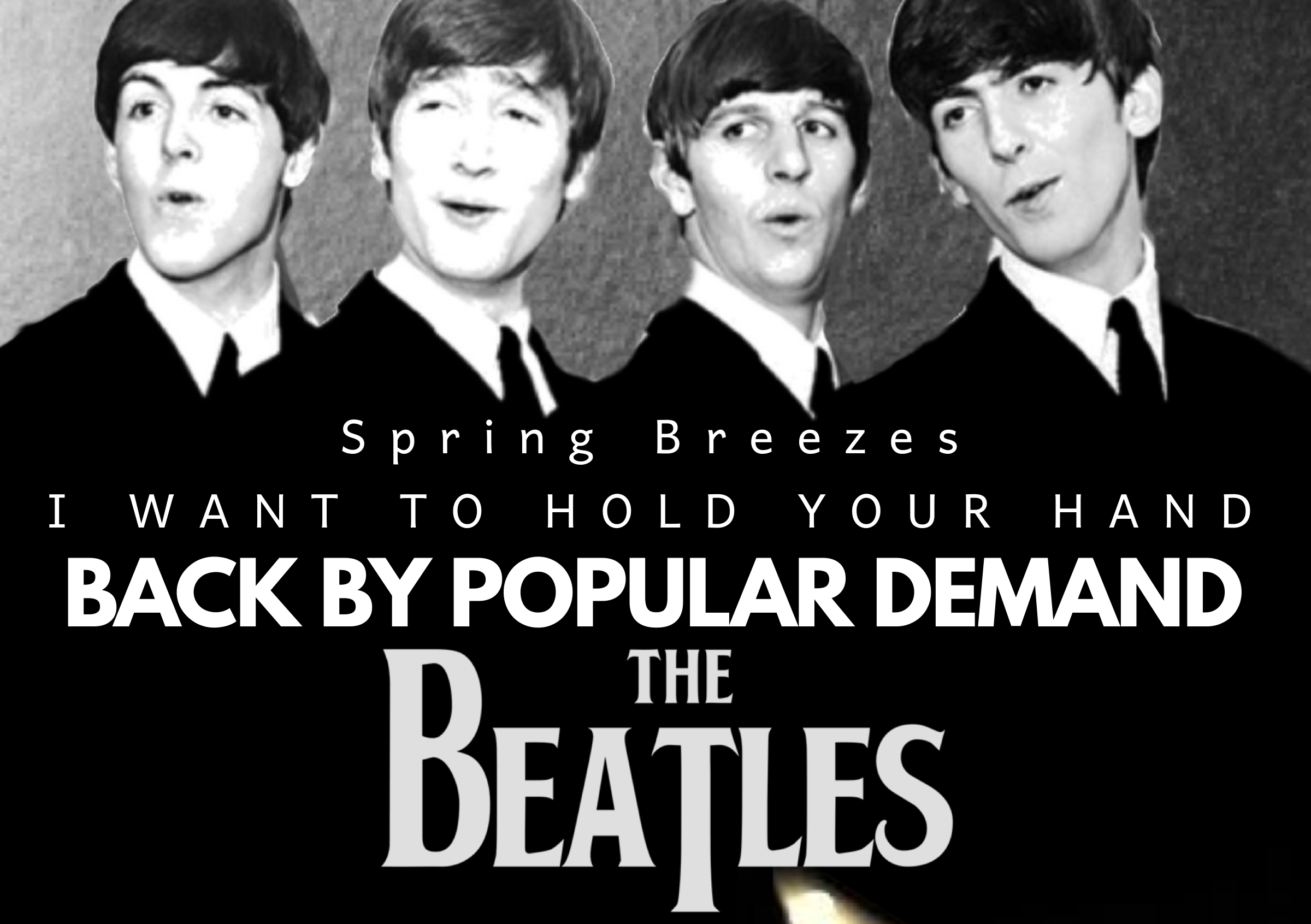 Spring Breezes
Don't miss our upcoming event! RSVP by May 1st and come have a great time while supporting a great cause.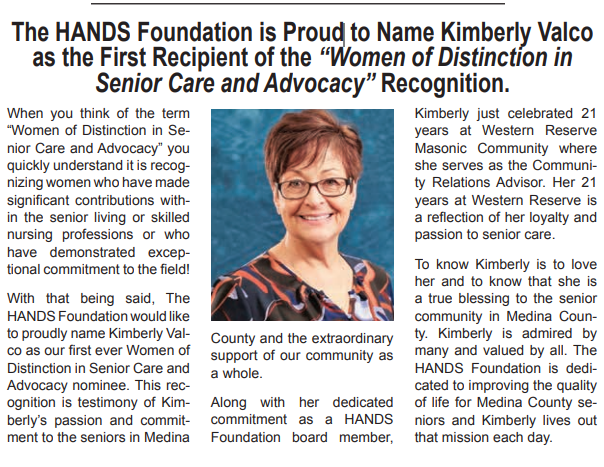 Women of Distinction
The HANDS Foundation is Proud to Name Kimberly Valco as the First Recipient of the "Women of Distinction in Senior Care and Advocacy" Recognition.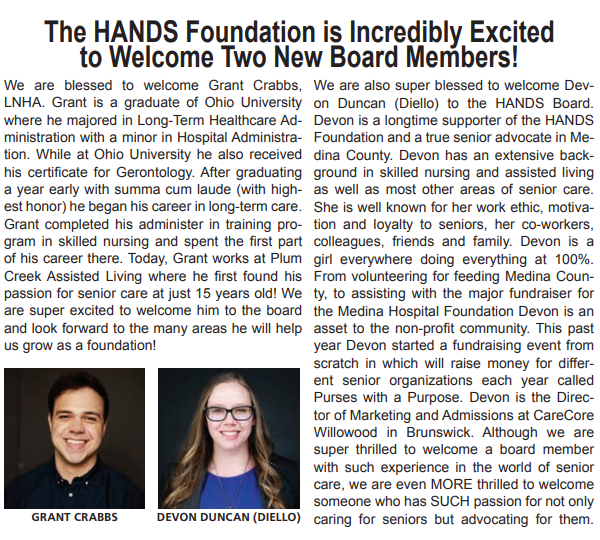 Welcome New Board Members
The HANDS Foundation is Incredibly Excited to Welcome Two New Board Members!
We Look Forward to Hearing From You!
Our many contacts both in and adjacent to Medina County offer a variety of services and products for seniors and we would be more than happy to assist you in finding exactly what you need... whether it be in-home care services, assisted living, meals on wheels, please feel free to contact us!
If you're not currently receiving our publication Helping HANDS, let us know and we'll add you to the list.  This newspaper tab style publication has been produced and distributed among seniors for 20 years and has become a trusted resource for seniors and their families.
Thank you and we look forward to helping Medina County seniors!