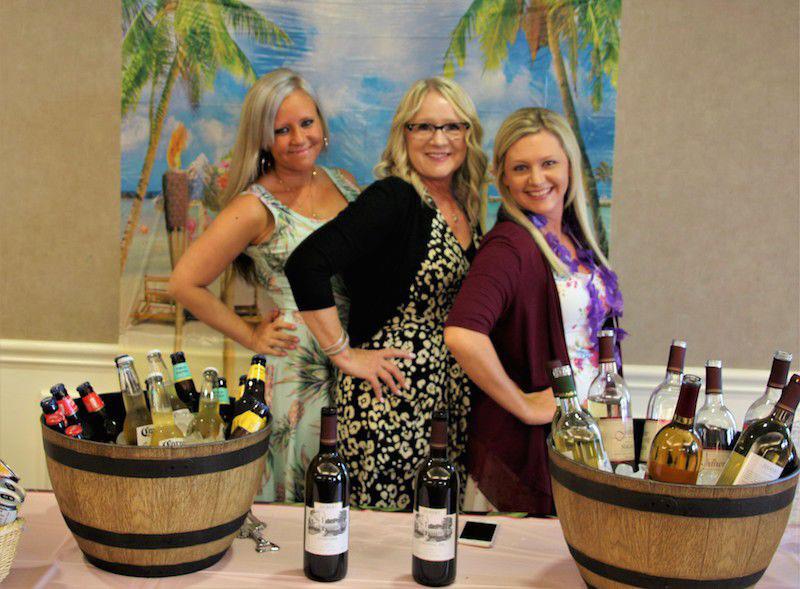 At the wine table, HANDS President Chrissy Waller, Dawn Jones and Brandi Provozni
On the evening of August 8, the appeal of enjoying a bit of Hawaii attracted guests to Plum Creek Senior Assisted Living, 891 Marks Road, Brunswick, for the always-anticipated annual Summer Breezes.
The casually comfortable, luau-themed event gave attendees the opportunity to spend leisurely time visiting with friends while supporting the work of the HANDS Foundation.
The pleasant event included a silent auction basket raffle and sideboards for anyone interested in trying their luck. Hand-crafted ales and lagers from Lager Heads, plus a selection of wines from the family-owned and operated Jilbert Winery of Valley City were served throughout the evening.
The staff of Plum Creek prepared a theme-appropriate delicious buffet of hot and cold hors d'oeuvres and desserts for guests and residents to enjoy as they listened to the music of entertainer Paul Christensen.
Earlier in the evening, the Plum Creek Residents Choir, under the direction of Linda Samosky, sang a series of all-time favorites for the crowd, many of whom joined in to sing along.
Among the county's dignitaries attending were Medina City Mayor Dennis Hanwell and his wife Chris, Auditor Mike Kovack and Soehnke Hasselhof, Medina City Finance Director Keith Dirham with his wife Deonna and their new baby Bryson, Montville Chief of Police Terry Grice, and Dean Holman and his wife Karen.
This popular ongoing event is held for the benefit of the HANDS Foundation, which, among other things, grants Senior Wishes to members of the Medina County community. In 2018, 101 Senior Wishes were granted, and as early as April of 2019, 25 had already been granted for this year.
The Foundation also hosts the Senior Farmers Market on Tuesday afternoons, 3 p.m., from June through August 20, in the Medina Senior Center parking lot; bags of food are given to seniors.
For about 20 years, since it was established by founder Don Simpson, the Helping HANDS newspaper has been circulated to more than 11,000 households. This valuable resource provides seniors with information that is directly related to them.
The sponsors who generously donated to this year's event were: Western Reserve, HomeInstead, Strongsville Smile Keepers, Clear Path Home Health Hospice, Medina Meadows, Ideal Home Health, Brunswick Pointe, Encompass the World Travel, Pearlview, Harbor Light Hospice, Stano Law Firm, and Marie Edmonds.